My Mother Planted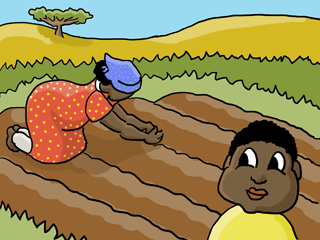 In 2015 I illustrated a story from Uganda for the
African Storybook Project
. They're doing a great thing where anyone can upload stories, images, translations - a community effort to make culturally relevant reading material for children there.
Ayoba!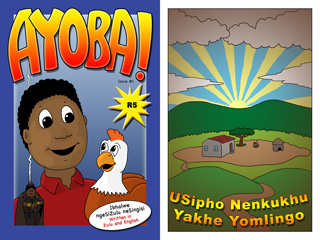 In 2013 I created a Zulu/English comic book for South African school children to encourage reading. It's most likely the first Zulu comic book ever made. You can read more about the idea at
my blog
, or you can just read the comic itself.
Everything except for the cover and title page (pictured to the right) is translated into English, so don't be afraid. It's aimed somewhere around grades 4-8, but adults seem to enjoy it too.
The Magic Head
This is a short story I wrote and rewrote over the course of several years. Not sure why it took me so long, but sometimes that's just how it is. I was surprised it met the approval of the ornery crowd over at
kuro5hin.org
for publication.
Two In The Bush
I opened a new chapter in my life in the spring of 2007 by going to South Africa for six weeks to volunteer in rural schools. I blogged about my experiences each day - some 100,000 words in total. It's rough and rambling, but hopefully it captures a unique experience.
It's divided up by day, just use the links at the top or bottom of the page to continue on or skip ahead.
US Roadtrip, 2008
In the summer of 2008 I bought a car near Tampa and drove it across country with all my belongings to Las Vegas. Here is the story of that trip.
My Blog
Aside from the above stories that can stand on their own, I do more traditional random blogging. I don't update reguarly, but if you drop by the front page of this site there's a good chance I'll tell you what's going on.